Microsoft has officially released the final build of Windows 10 2004 to Insiders in the Release preview ring and plans on releasing it to everyone in May as the "May 2020 Update".
On Tuesday, Microsoft released the Windows 10 10 2004 version 19041.207 to Insiders on the Slow ring and have announced today that this is the final build to be released to all users in May.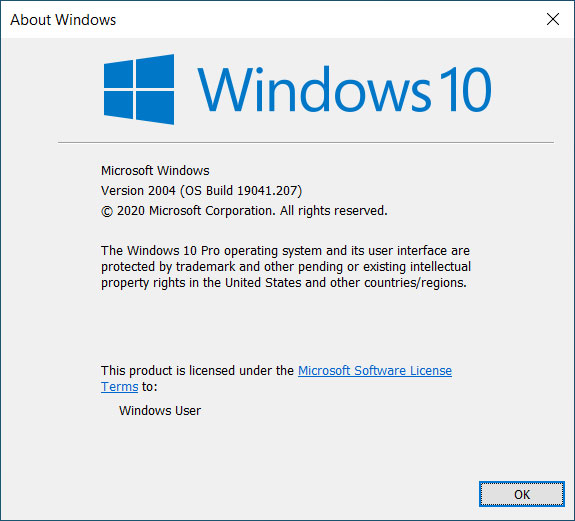 Starting today, Windows 10 2004 19041.207 has been moved to the Release preview ring so it can be further tested in production environments before the final release in May.
"We are now getting the Windows 10 May 2020 Update (20H1) ready for release and releasing Build 19041.207 to Windows Insiders in the Release Preview ring. We believe that Build 19041.207 is the final build and we will continue to improve the overall experience of the May 2020 Update on customers' PCs as part of our normal servicing cadence," Microsoft's announcement on the Windows Insider blog stated.
As part of this rollout, only 50% of the Windows Insiders in the Release ring will receive the final build automatically at first.
Other Insiders in the Release ring can perform a manual Windows Update check to download and install the May 2020 Update.
Microsoft is offering businesses who are testing the May 2020 Update in their organization free support for severe issues that are discovered.
"This support offering is intended to help resolve issues with business use case scenarios and is limited to Windows 10 Enterprise and Pro editions customers. If you run into a severe issue that prevents you or other users in your organization from using a device or compromises security or personal data, you can use our online form to request assistance directly from Microsoft Support¬—at no cost to you," Microsoft offers.
Organizations can request this free support by contacting Microsoft using this form.
Windows Mixed Reality users should not install Windows 10 2004
Microsoft states that there are known issues with Windows Mixed Reality on Windows 10 2004 and that users of this technology should hold off on installing the update until a fix is released.
"Important note for Windows Mixed Reality users: Windows Mixed Reality may not work correctly for many users on the May 2020 Update. If you regularly use Windows Mixed Reality, we recommend holding off taking the May 2020 Update via Release Preview for now. We are working on a fix which we hope to release in early May," Microsoft warns.
Microsoft hopes to release this fix in May.
Windows 10 2004 contains numerous new features
Compared to previous Windows 10 feature updates, Windows 10 1909 November 2019 Update was more of a service pack than a new feature-rich version.
The Windows 10 2004 (20H1) release will feel more like a feature update with a variety of new features such as a new optional update experience, improved Task Manager, a new Cortana experience, improved Windows Search, and more.
More information about the upcoming Windows 10 2004 features can be found in our Windows 10 2004 is Coming Soon, Here Are the New Features preview article.