Microsoft is pausing the releases of new major versions of the Edge browser, including version 81, to remain consistent with the Google Chrome releases, which were paused earlier this week.
Due to the Coronavirus pandemic, many companies including Google and Microsoft are having their employees work from home to prevent the spread of the virus. This also means that normal routines and the ability to respond to bugs or issues that may arise when a new version is released.
This past Tuesday, Google Chrome 81 was expected to be released to the Stable channel but was never released.
On Wednesday Google explained that they are pausing all future releases of the Chrome browser, including Chrome 81, during the Coronavirus outbreak. Google will continue, though, to provide new releases of Chrome 80 to fix security bugs that are discovered.
As Microsoft Edge follows the same release cycle as Google Chrome, Microsoft Tweeted Friday that they have decided to follow Google's lead and have paused all major releases of the Edge browser.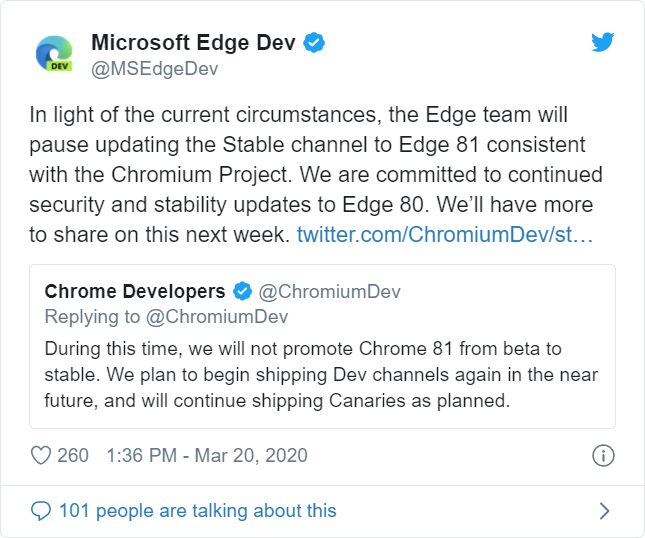 In a later post to the Microsoft Edge blog, Microsoft reiterated that the releases are now paused, but that they will continue releasing security and stability updates to Microsoft Edge 80.
In light of current global circumstances, the Microsoft Edge team is pausing updates to the Stable channel for Microsoft Edge. This means that Microsoft Edge 81 will not be promoted to Stable until we resume these updates.
We are making this change to be consistent with the Chromium project, which recently announced a similar pause due to adjusted schedules, and out of a desire to minimize additional impact to web developers and organizations that are similarly impacted.
We will continue to deliver security and stability updates to Microsoft Edge 80. Preview channels (Canary, Dev, and Beta) will continue to update on their usual schedule.
All builds in the preview channels, though, will continue to be updated and released as per their usual schedule.